QuadPack CubeSat deployer
Price on request
No charging needed, does not contain batteries
Allows for up to 10.0 mm side volume and a large ''tuna can''
Dynamic rail system clamps satellites inside for best load transfer
FAR/ITAR free design
Redundant deployment and telemetry signals
Ultralight burn wire-based Hold Down and Release Mechanism
Access hatches in the door to allow for umbilical connection
Also available in XL variant
Flight heritage since 2014 on Dnepr, PSLV, Soyuz, Falcon 9, Vega
Flight Heritage since 2014
Description
The QuadPack is a 12U European launch adapter developed by ISIS for use with its small satellite launch services to accommodate CubeSats onboard a large variety of launch vehicles. By design, the QuadPack is a multi-deployer with simple and flexible interfaces and configuration with regards to the CubeSats and launch vehicles. During the launch, the CubeSats are fully enclosed by the QuadPack and are only dispensed upon the signal by the launch vehicle.
The QuadPack deployer can be preconfigured to one of the various types of the series to launch any configuration of satellites inside, from 1x12U, 2x6U, 4x3U to a combination of 1U, 2U, and 3U CubeSats. It is also available in XL variants.
| | |
| --- | --- |
| Deployer Mass: | 6 – 7.5kg |
| Maximum Payload Mass: | 24kg |
Configuration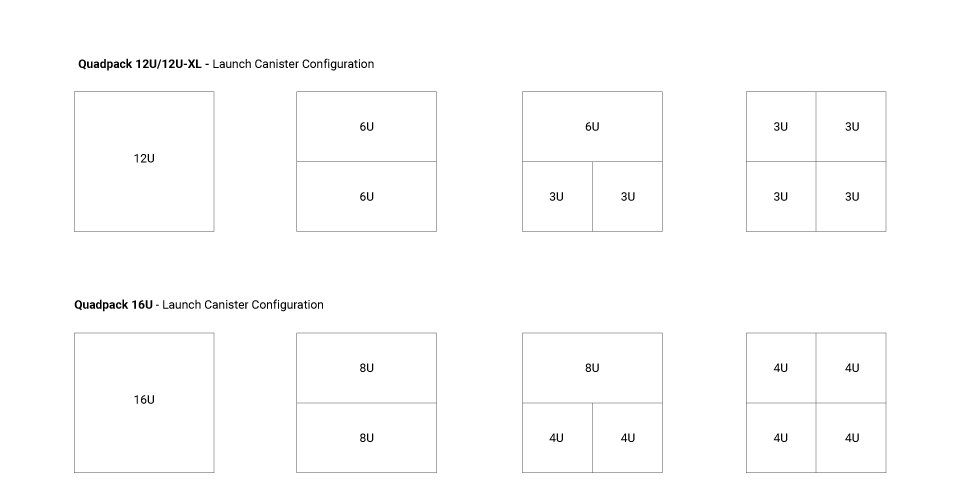 Qualification testing
| | |
| --- | --- |
| Test | QT |
| Functional | ✓ |
| Vibration | ✓ |
| Mechanical Shock | ✓ |
| Thermal Cycling | ✓ |
| Thermal Vacuum | ✓ |
*Levels available on request, ECSS/NASA GEVS compatible
FAQ
What is the deployment velocity?
The deployment velocity depends on the satellite mass and the spring. Deployment speeds can range from 0.8m/s to 1.8m/s.
Do you offer integration services?
Yes, we can support you with the integration of your satellite to the deployer at our facility in Delft and other locations. Please discuss with your sales representative.