Infostellar and ISISPACE, from its role as ground systems manufacturer, partnered to simplify the StellarStation integration process for new users.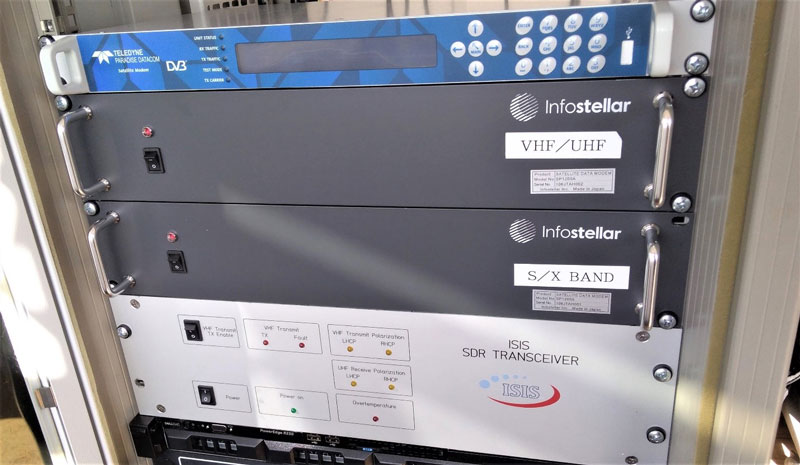 As a result of these partnerships, StellarStation has been deemed compatible with several widely used ground station hardware options. Those ground station owners can connect their equipment to StellarStation's sharing device, StarPass, without concern for incompatibility. This will allow them to connect to the StellarStation network.
Once connected to the StellarStation network, ground station owners can sell their unused communication time to other users. This ground station sharing enables users to offset their own communication costs or recoup maintenance costs.

Compatible equipment
Innovative Solutions in Space (ISIS)
• Full Ground Station Kits for VHF/UHF
• VHF/UHF Ground Station Transceiver
Teledyne Paradise Datacom
• Qubeflex satellite modem
ISIS' full ground station solutions include Teledyne's Qubeflex satellite modems for S-band communication with satellites flying ISIS' flight proven High-data rate S-band transmitter or other compatible transmitters.
Adding the StellarStation ground station network option to its turn-key mission solutions allows ISIS to offer more satellite access options to get data from the satellite to the customer.
About StellarStation
StellarStation is a quick, flexible ground station aggregator for new space satellite services. After one-time setup, satellite operators can access any ground station across our global network. Ground station owners also have the option of sharing their unused capacity to other operators. https://www.stellarstation.com/
About Innovative Solutions in Space
Innovative Solutions In Space B.V. is one of the leading companies in the fast-growing small satellite market. The company, based in the Netherlands, is vertically integrated and combines research and development, testing, launch services, and operation of small space systems in a single organization. This allows ISIS to provide the right solution for every customer, from subsystems to full turn-key missions and custom solutions.
More information about ISIS can be found at www.isispace.nl
About Teledyne Paradise Datacom
Teledyne Paradise Datacom designs, manufactures and sells satellite modems, solid state power amplifiers (SSPA), low noise amplifiers (LNA), block up converters (BUC) and associated redundancy subsystems. We deliver satellite communications products around the world and have unparalleled experience in satellite communications products. At Paradise, we focus on creating significant product differentiators and innovative architectures in order to make ourselves the supplier of choice in the satcom industry.
More information about Teledyne Paradise Datacom can be found at www.paradisedata.com.
About Infostellar
Infostellar is a satellite communications infrastructure provider developing a quick and flexible ground station network called StellarStation. By lowering barriers to entry in the ground segment, Infostellar empowers newspace startups to build better missions and improve the quality of their service. Founded in 2016, Infostellar is headquartered in Tokyo, Japan.