Delft, July 10 2020 – After having been awarded a mission study contract by the European Space Agency (ESA) for the Twin ANthropogenic Greenhouse Gas Observers (TANGO) mission, the ISISpace-led consortium now aims at the next phase: to get the actual mission implemented and the system operational. The TANGO mission project is a pioneering satellite that will use breakthrough technology to monitor emissions of the greenhouse gases methane (CH4) and carbon dioxide (CO2) at the level of individual industrial facilities and power plants.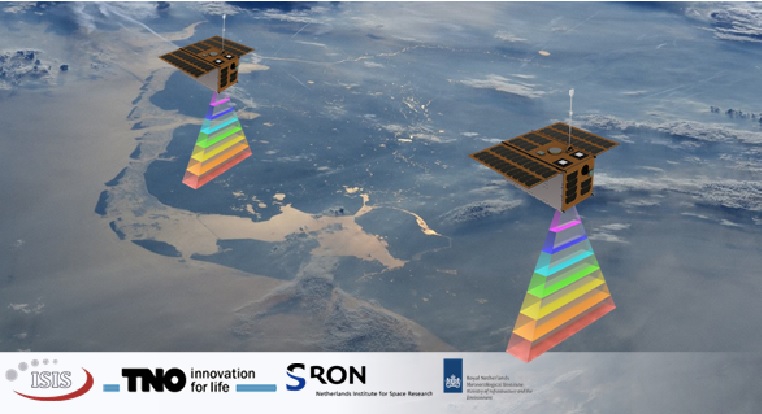 Climate change is undeniably one of the most urgent problems of our time, and reducing greenhouse gas emissions is essential to combat these changes. Together, CH4 and CO2 represent over 90% of the total greenhouse gas emissions in Europe, most of them with anthropogenic origin. Satellites provide a unique opportunity for global and independent monitoring of greenhouse gas emissions. TANGO is aimed to uniquely complement the large current and planned Copernicus monitoring missions such as Sentinel-5(P) and the CO2M High Priority Candidate Mission (HPCM) by already providing unrivalled high-resolution monitoring of the major anthropogenic greenhouse gas emissions on a regular basis down to a spatial resolution of 300×300 m2 for CH4, CO2 and NO2.
Access to this valuable emission information will enable scientists, industry and policy makers to monitor the results and mitigation strategies. All these intents are in concordance with the ESA Earth Observation Strategy Challenge and its well-established user community. The TANGO mission will also be relevant for the Copernicus Atmospheric Monitoring Service (CAMS), and especially to the dedicated CAMS segment for anthropogenic CO2 and CH4 emissions, currently being developed in the EU Horizon 2020 Programme projects CHE and VERIFY.
The TANGO mission concept was created by the consortium, which includes ISISpace, as mission prime, Netherlands Organisation for Applied Scientific Research (TNO), Royal Netherlands Meteorological Institute (KNMI), Netherlands Institute for Space Research(SRON) and 3D PLUS. It will show a unique combination of world class atmospheric science, innovative instrument technology and a New Space development approach, and will set a new standard for cost-effective Earth Observation using small satellites. The mission's open data policy allows independent data verification and opportunities for a wide user community. Further iterations of the TANGO observatory, including additional atmospheric measurements, improved measurement precision and higher temporal resolution, can follow shortly due to the cost-effective small satellite development approach.
"We are pleased to have been awarded this study to show the added value of small satellites carrying high end instruments to augment large existing remote sensing systems such as the Copernicus Sentinel satellites. The high spatial resolution of the instruments allows TANGO to be used as a 'magnifying glass' for the existing services, being able to zoom in on areas with high levels of emissions and using the high spatial resolution imagery to quantify individual emission sources much better. Implementing the next-generation of miniaturized atmospheric research instruments on our small satellite platform is a first step towards an operational system for emission monitoring on individual emission source level that will provide stakeholders with regular actionable information to curb harmful emissions. These coming months we aim to demonstrate evidence of the importance and feasibility of our mission and be selected for the next phase. We're eager to get this mission off the ground", said ISISpace CEO, Jeroen Rotteveel.
About ISISpace
Located in Delft, The Netherlands, ISIS – Innovative Solutions In Space (ISISpace) is one of the leading companies in the small satellite market. Founded in 2006, the company operates globally and serves customers worldwide in accomplishing their space missions and applications. ISISpace designs and delivers small satellite platforms, for single missions and constellations, either standardized or optimized in performance and size tailored to the mission needs. For more information about ISISpace, please contact us through info@isispace.nl or visit the website at https://www.isispace.nl/
About TNO
TNO, the Netherlands Organisation for applied scientific research, was founded by law in 1932 to enable business and government to apply knowledge. As an organisation regulated by public law, is independent: not part of any government, university or company. TNO, the Netherlands Organisation for applied scientific research, was founded by law in 1932 to enable business and government to apply knowledge. As an organisation regulated by public law, we are independent: not part of any government, university or company. TNO connects people and knowledge to create innovations that boost the competitive strength of industry and the well-being of society in a sustainable way.
About Royal Netherlands Meteorological Institute (KNMI)
The Royal Netherlands Meteorological Institute (KNMI) is the Dutch national weather service. Primary tasks of KNMI are weather forecasting and monitoring of weather, climate, air quality and seismic activity. KNMI is also the national research and information centre for meteorology, climate, air quality, and seismology.
About Netherlands Institute for Space Research (SRON)
SRON is the Dutch national expertise institute for scientific space research. It is part of Dutch Research Council (NWO). Since the foundation of the institute by university groups, in the early 1960s, they have, often in a leading role, provided key contributions to instruments of missions of the major space agencies, ESA, NASA, and JAXA. These contributions have enabled the national and international space-research communities to explore the universe and to investigate the Earth's atmosphere and climate. As a national expertise institute, they stimulate collaboration between the science community, technological institutes, and industry.
About 3D PLUS
3D Plus is a world-leading supplier of advanced high density 3D microelectronic products and bare die and wafer-level stacking technology meeting the demand for high reliability, high performance and very small size of today's and tomorrow's electronics. Comparing to other existing 2D traditional solutions, their technology gaining a factor of at least 10 on the weight and volume of the components. 3D PLUS standard products and System-In-Package (SiP) solutions are used in high technology industries for industrial, computer boards & embedded systems, defence & security, aircraft & avionics, medical & sciences and aerospace applications.