Delft, November 12, 2021 – ISISPACE announces today that it is one of the founding members of the NetZeroSpace Initiative, launched this Friday at the Paris Peace Forum. This initiative is gathering stakeholders from all over the world committed to ensuring sustainable use of outer space by 2030 by undertaking concrete actions in this regard.
ISISPACE has committed itself to using "disruptive space solutions for a better tomorrow", and undoubtedly taking care of the space environment itself meets a vital part of the company's mission. As a spacecraft operator, ISISPACE is operating satellites under the "Dutch Space Activities Act", which imposes strict, but clear constraints concerning the orbital lifetime and debris mitigation. This legal framework pushes the organization to be every day more sustainable in the use of low-earth orbit compared to the Inter-Agency Space Debris Coordination Committee (IADC) guidelines. As a Dutch company, the team is proud of complying with national rules, ensuring that spacecraft are deorbited within 25 years after launch rather than within 25 years after the end of their operational life. 
Over the years, ISISPACE has been involved in different technology development projects and in-orbit demonstration missions for debris mitigation and active debris mitigation. One of the most notables is the very successful Active Debris Removal (ADR) concept demonstration mission RemoveDebris, which resulted from a consortium of European companies and research institutes within the framework of the European Union FP7 program. This project has demonstrated the feasibility of the technical solutions to perform ADR activities in low-earth orbit.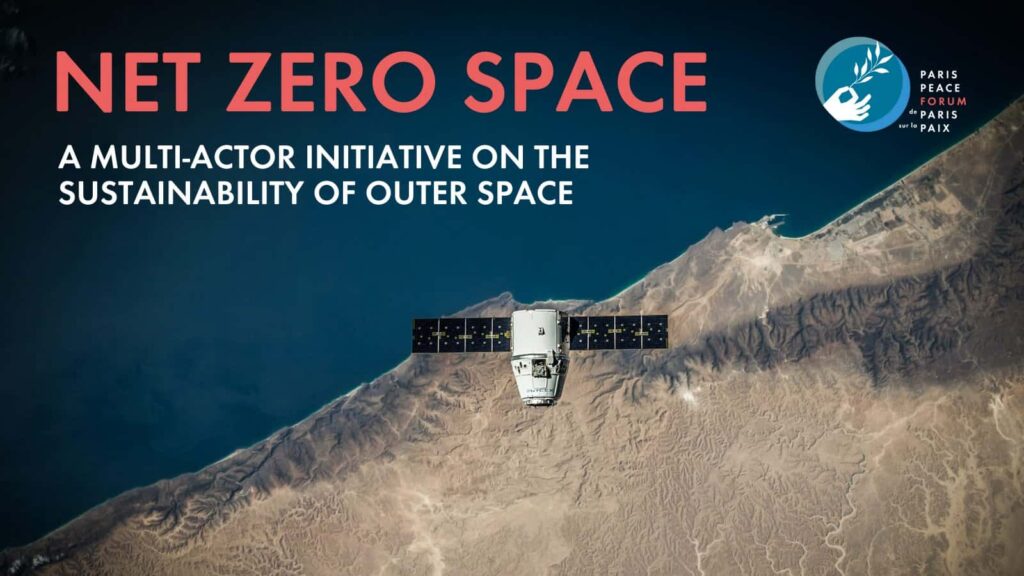 As one of the major satellites rideshare service providers to low-earth orbit and a leading European CubeSat manufacturer, it is a logical and strategic step to join the NetZeroSpace Initiative, moving forward in ensuring that space remains accessible with sustainability. It is particularly relevant as the space-based systems play a key role in the global societal challenges of the 21st century, such as combating climate change and food security.
"Global information collection and dissemination is the key to solving the large challenges of the 21st century", says ISISPACE CEO, Jeroen Rotteveel. "It is imperative that we can deploy networks of satellites into low-earth orbit to provide monitoring and compliance information on greenhouse gas emissions. To contribute with such satellite systems to the fight against climate change, we need to ensure that space activities themselves are performed responsibly and sustainably. The success of our company mission depends on it, and as such, joining the NetZeroSpace initiative is a logical and valuable step for us. By committing to the NetZeroSpace initiative, we compromise in continuing our efforts in the development and demonstration of effective debris mitigation and ADR technologies for small satellites, ensuring the space remains as clean as possible."
In addition, the company will initiate activities to implement incentives for CubeSat operators to baseline debris mitigation and de-orbiting systems on their spacecraft. By taking advantage of a leading position in the spacecraft and launch services domains ISISPACE intends to leverage this commitment across other operators in low earth-orbit.
Finally, ISISPACE also compromises in intensifying its involvement in various international forums related to debris mitigation, space traffic management and active debris removal policy to ensure that futureproof frameworks will be soon implemented.
About ISISPACE
Innovative Solutions In Space (ISISPACE) is one of the leading companies in the small satellite market. Founded in 2006, the company operates globally and serves customers worldwide in accomplishing their space missions and applications. ISISPACE specialises in realizing innovative turn-key small satellite missions including launch and operations for in-orbit delivery. ISISPACE designs and delivers small satellite platforms, for single missions and constellations, either standardized or optimised in performance and size tailored to the mission needs. In addition to that, the company supports space capability building through training programs, knowledge transfer as well as component sales. Currently, ISISPACE employs over 125 specialist employees from 25 different nationalities. For more information please visit: www.isispace.nl
About Net Zero Space
At the occasion of the 4th edition of the Paris Peace Forum, actors from all over the world concerned by the long-term sustainability of outer space have launched the "Net Zero Space" initiative. From satellite operators to launchers, from space agencies to academia and the civil society, all these stakeholders gathered to call to achieving sustainable use of outer space for the benefit of all humankind by 2030 by taking concrete actions so as to tackle the pressing challenge of reducing debris orbiting Earth. Read more here: https://parispeaceforum.org/en/initiatives/net-zero-space/