Today, we celebrate the 12th anniversary of ISIS – Innovative Solutions In Space. Of those 12 years, the last year, 2017, surely has been a great and busy one again; we can proudly look back at a record-breaking CubeSat launch, at gaining significantly more flight heritage on many of our components, at initiation a number of very ambitious missions, and of course at growing the ISIS family to the 90+ members we are today.
Some highlights of 2017:
CubeSat products
We have achieved flight heritage (and demonstration) of our iMTQv2, TXS and EPS
We have added 6 new vendors on CubeSatShop
8
Ground stations sold/installed
Launch services
We launched 124 satellites with PSLV
We launched 50 satellites on a Soyuz
We prepared for 5 ISILaunch Campaigns
We launched satellites for 15 nations
We placed 43 deployers on launch vehicles
We set a world record with 101 CubeSats in a single launch
We reached the stunning number of 250 satellites launched through ISL
Upcoming launches
ISL21 on PSLV in January 2018
ISL22 on LM-11 in January 2018
ISL23 on PSLV from May 2018
ISL20 on Falcon 9 from June 2018
and a few more to be disclosed soon
ISILaunch17 – recordbreaking PSLV launch
World record with 101 CubeSats in a single launch
Missions & platforms
We launched and supported operations of 3 full missions:
We prepared the following platforms for launch:
We are working on the following new missions for launch from 2018:

SIMBA
JAISAT-1
Hiber-1
Duchifat-3
BRIK-II
Hiber-2
Cooperation and Training
cooperation with Kubos
training of the Royal Thai Air Force
on-site training in Jordan
on-site training of Masdar in Abu Dhabi
on-site training in Algeria
TU Delft cooperation on groundstation network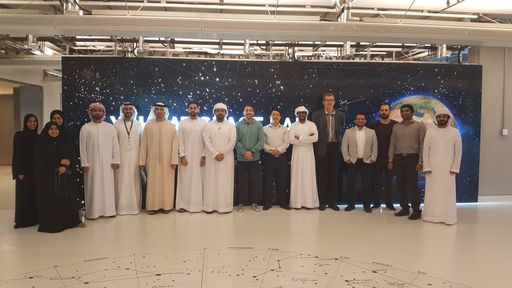 First jordanian satellite – JY1SAT
During the final satellite integration training for Jordan's first satellite, JY1-SAT, given to students of the Masar Initiative at the Jordan University of Science and Technology as part of the JY1-SAT mission support and training program under the Crown Prince Foundation given by ISIS – Innovative Solutions In Space and AMSAT UK and AMSAT Netherlands, the team was supported for the final stages of integration by His Royal Highness Crown Prince Al Hussein bin Abdullah II.