Working at ISIS
Are you looking for a workplace that allows you to work in an international and interdisciplinary environment that allows you to tackle challenging assignments together with skilled and enthusiastic peers? Are you passionate about solving complex technological problems? Are you interested in a career in space? If so, you will find working at ISIS a highly rewarding experience. Join ISIS' growing teams and help us to continue to be at the forefront of breakthrough concepts in the small satellite world!
At ISIS we bring together, skilled and creative people to work in a multidisciplinary environment. We like to hire, develop and retain the best talent and skills, irrespective of your origin. Our people come from all over the world, including senior management. At present we have more than 25 different nationalities working for our group.
Spacecraft engineering offers complex problems for bright people. Especially in our domain of small satellites, our engineers are challenged to find innovative ways to obtain maximum performance out of as little resources as possible. The multidisciplinary aspects of satellite engineering force you to think outside the box and consider a full system's view in order to solve the engineering challenges. Above all, ISIS is a company with a lot of dedicated people that are fun and pleasant to work with. We are a very down to earth organization while at the same time being a global leader in the field of nanosatellites.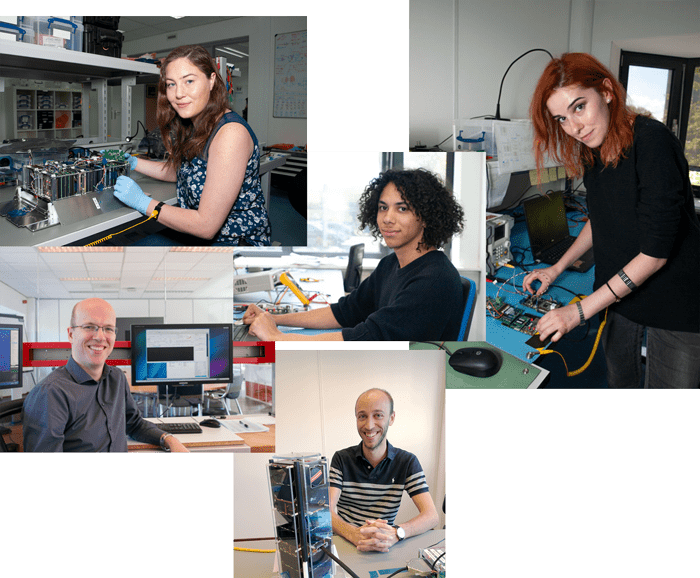 Personal development
We greatly encourage new ideas and are open to suggestions from all employees on how to make ISIS a better company and how you can play a role in that. We promise not just a job, but a career. A career at ISIS means working in a very stimulating and challenging environment and allows you to develop yourself in a variety of roles. ISIS offers a broad range of personal training or skills development opportunities that can be tailored to your needs and interests, as well as a number of courses and training aimed at the entire organization. Examples of training and courses include Space Systems Engineering, PRINCE2 project management, Leadership development, and RF measurement techniques. In addition, it is very much encouraged to be involved in a support role within the company next to your main role, such as providing assistance in business development, process definition or technology road mapping.

Competitive salary

Pension plan for all employees over 21 years of age

A 40-hour week, with flexible work hours

Variable end-of-year bonus of up to 8%

30 paid vacation days (including national holidays)

Commuting allowance of € 0,19 per kilometer

Holiday allowance of 8%

Internal training programs, full or partial reimbursement of a training

Pension premium coverage of partner and children

Free lunch, snacks and soft-drinks

Flexibility with respect to work/life balance
Job openings and internships