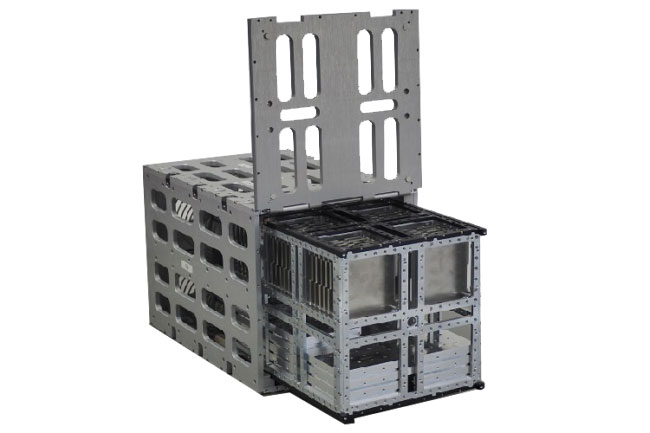 Testing hardware
For the CubeSat market, we provide a range of test-Jigs called TestPODs, to interface the CubeSat to the vibration test equipment while providing flight representative interfaces and load paths to the satellite. The Test-PODs are available for sale or for rent (when performing the tests yourself) or are used as part of the test service.
Environmental testing services
We have many competencies and capabilities available in-house that are also available as stand-alone services, or as an add-on to some of our products and launch services activities. For many years we are able to help our customers with such additional services and this has become one of our key strengths. We are often able to link customers with more specialized organizations from our network.
Mechanical shock tests are particularly important for mechanisms and other moving elements in a satellite but can be part of a product qualification process as well. Our shock test bench is able to simulate the shock spectra of most launch vehicle currently in use for the launch of small satellites.
Our environmental test facilities are optimized for the flight acceptance and qualification of satellites smaller than 30 kilograms. We operate a number of thermal chambers to allow unit testing across their allowable temperature range. We are able to support the thermal cycling of test items from -45°C to +110°C.
We can support customers with thermal vacuum testing in their development, qualification of fight acceptance test flow. Although the facilities are suitable for long during testing under vacuum, we mainly offer the option for bake-out testing and short duration cycling.
We have extensive experience in vibration testing of nanosatellite flight hardware by performing tests on a weekly basis to support our launch services and satellite mission activities. As we provide launches on a broad range of launch vehicles we performed qualification or acceptance level testing for most commonly available launchers.